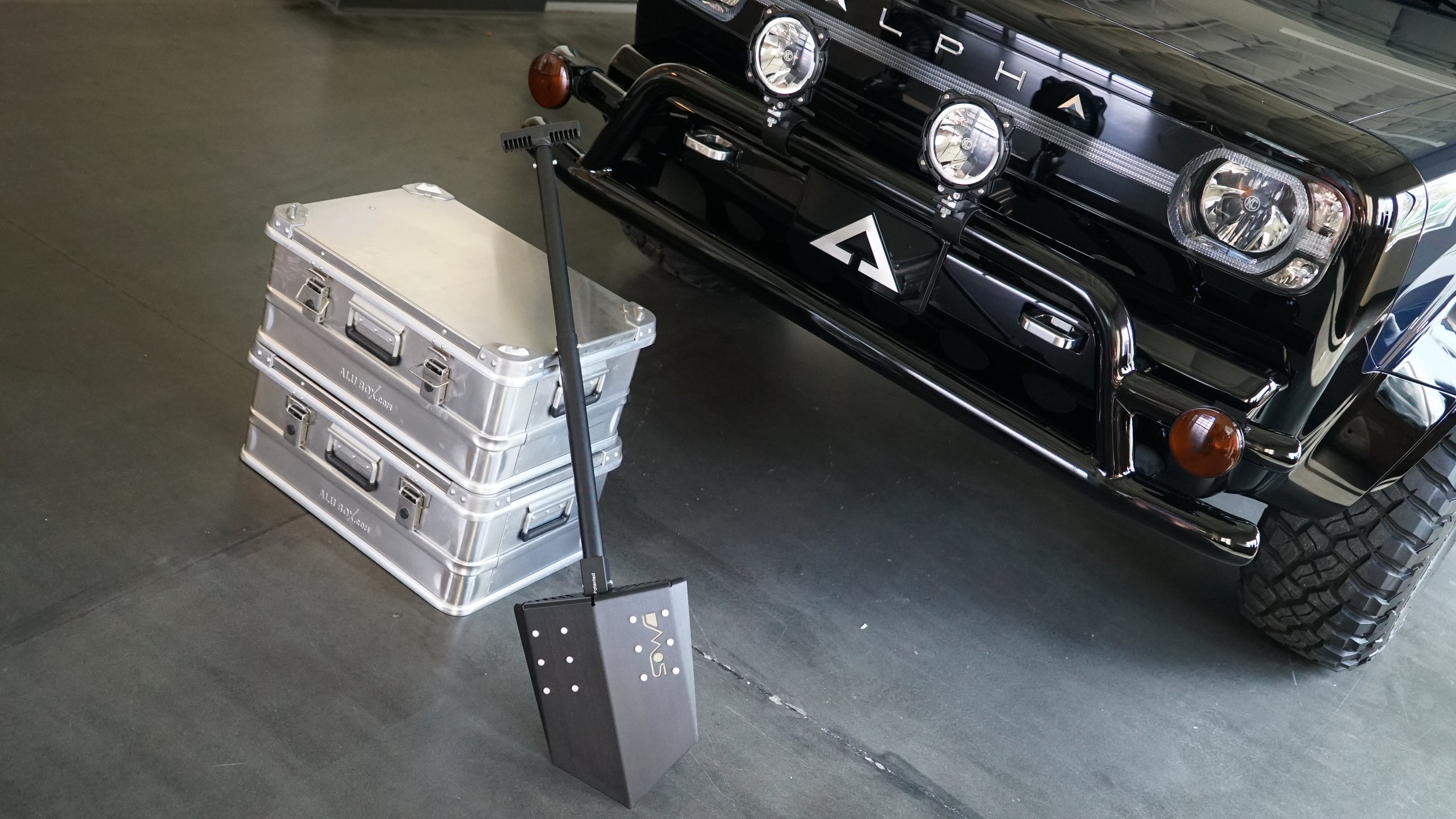 alpha camp 2023
SEOUL MOBILITY SHOW
Seoul, Korea
Starting from March 30
"The CAMP platform represents a collective motivation that shapes inspirations. Through authenticity and resilience, we reinforce purpose and responsibility to Move Humanity®. We find tremendous value in embracing partnerships and collaborations, which enable both our vision to expand the outer limits of our business and our mission to create solutions that will help mend shortfalls in the industry."
Jada Lee, Co-Founder, Vice Chairman of the Board of Directors of Alpha Motor Corporation
ABOUT ALPHA CAMP
CAMP represents Alpha's unique automotive process that opens new ways to experience products and builds upon the Move Humanity™ culture of community innovation. It creates an engaging platform to streamline sharing of ideas, complete technical development, and contribute to finding solutions in sustainability.
The original CAMP was introduced by Alpha in the Summer of 2022 and featured innovative brands in fashion, entertainment, outdoor gear, vehicle solutions and specialty food.
Alpha CAMP brings cross-industry collaborations together to envision a sustainable mobility lifestyle that has never been seen before – until now. People will soon be able to experience CAMP at the Seoul Mobility Show beginning March 30, 2023.
ALPHA CAMP 2023 Collaborations
The CAKE Makka Flex is a lightweight yet robust electric moped, designed for both city streets and outback adventures, while doubling as a smart configuration platform for your everyday mobility needs. The Makka flex is the powerful version, with top speeds reaching +45 km/h and a strong battery - a machine built to last.
CAKE is a Swedish maker of premium lightweight, electric motorcycles, and mopeds, with a clear mission to inspire towards a zero-emission society, by combining excitement and responsibility. The model range currently consists of four different platforms – our versatile off-roader Kalk, the modular utility bike Ösa, the urban commuter Makka, and the strong and practical e-bike Åik. Thanks to an extensive range of accessories and configurations, CAKE is addressing a wide matrix of users and applications, including commercial use for last-mile delivery and other short-haul urban transportation. Along with numerous awards and recognitions for its design and innovative approach to mobility and other societal challenges, CAKE was identified as one of the world's most innovative companies by Fast Company in both 2020 and 2021 and received the Time Magazine 100 most important inventions award in 2021. Explore with respect.
The multi-purpose Mavericks tent is designed especially for extreme conditions and functions as basecamp for larger groups. It offers an internal height of two-meters and more than 13-square meters of ground space. The whole tent is pre-assembled and can be setup by a single person in no time. Its special geodesic structure is designed to withstand wind speeds up to 180km/h.
With a set-up time of about 10 min for a single person, Mavericks is fully functional expedition base camp to travel with. Multiple ventilations, doors and windows let you adjust its functionality to your specific needs and preferences.
The reason why we exist is quite simple: we have HEIMPLANET into existence because we see opportunities for improvement. We realized that our expertise could be used to find better fabrics, fairer working conditions, better trained manufacturers, cleaner production routes and more thoughtful designs. They say quality is about meeting expectations. Why just meet them when you can exceed them? We keep going until there is nothing left to improve. Is that an unrealistic goal? Probably. Does every great ambition start with a fair amount of naivety? Absolutely! What's the point of being a modern outdoor brand if you don't take risks? Actually, we are not so much concerned with realism as with what drives us.
"Alpha Motors' vision for the future and emphasis on forward-thinking sustainability is a breath of fresh air for the automotive industry and the world. By entering the outdoor recreational space, Alpha makes a natural progression from their already innovative approach to EVs. Nothing sounds better than experiencing the beauty of nature without leaving a heavy footprint," said Kevin Circosta, Founder of Free and Easy.
"We are delighted to work with Alpha Motor and the CAMP platform. It gives us a chance to work with some of the best in automotive aftermarket in a co-creative space which accelerates our design thinking to better achieve our mission to make people their own hero with mission-ready gear that is always at hand and never in the way," said Susan Pieper, Founder and CEO of DMOS Collective, Inc.
"The Alpha Wolf truck design and function is the perfect pairing to the easy-to-use high comfort RECARO Expert seat. The clean classic seat design and easy to use functions align for both on and off-road adventures," said RECARO Automotive.
The world's leading automotive seating brand, RECARO Automotive, specializes in creating innovation, safety, comfort, and quality in automotive seating. We have 500 employees operating in 3 assembly plants in 3 countries worldwide producing and delivering premium quality automotive products by using the brand RECARO under a license of the RECARO Holding for dynamic, racing, comfort, commercial, and major OEMs. From complete seating systems to individual components, our expertise spans every step of the automotive seat-making process. Our globalized integrated, in-house skills allow us to support our product creation from research and design all the way to engineering and manufacturing while maintaining a global premium brand presence.
"Equipt is thrilled to be participating in the Alpha CAMP Project. We are one of the oldest US importers of premier overlanding equipment, including Alubox aluminum storage cases from Denmark," said Paul May, Founder and Owner of Equipt Expedition Outfitters.
Our mission is simple--to outfit all adventurers with gear that is built better.
More than 15 years ago, Equipt became the first American company to import high-quality, vehicle expedition equipment from across the globe. Since our humble beginnings, we have risen to become a go-to leader within the adventure travel industry, continuing to deliver a diverse portfolio of reliable, long-lasting products backed by unparalleled customer service. From shelter solutions to portable fridges, Equipt's ever-growing selection of best-in-class gear increases your capability, comfort, and confidence during any adventure.
"At KC, our heritage is deeply rooted in off-road racing since the 1970s and our products continue to defy the limits of engineering norms. Sometimes that works in our favor and sometimes it fails, but we learn. Our Gravity® Pro6 initially failed in trial runs, but it ultimately set the standard for branded circular LEDs and linkable light bars. In the spirit of this, we are excited to be part of Alpha Motor Corporation's CAMP as we continue to Defy Limits in the digital world and IRL," said Randy Wimenta, Marketing Activation Manager.
"We are excited to continue our partnership with Alpha Motor Corporation with another collaborative build effort. Given Black Rhino Wheels' strong history in the overland market, the CAMP is a perfect platform to showcase the all-new Black Rhino Fuji wheel design and engineering," said Scott Chu, Marketing Manager Wheel Pros.
KMC Wheels of Wheel Pros adds even more value to the Wolf Plus with the stunning KM718 SUMMIT beadlock wheel. KMC is redefining performance on and off the asphalt since 1982. With innovating styles and relentless pursuit to confront possibility. KMC Wheels are designed for the barrier breaking, game-changing individuals who defy conventional thinking in motorsports and use machines to pull off the impossible.
"We are always looking for innovative partnerships that align with our sustainable values and quest for unmatched quality," said Jon Allen co-founder of Onyx Coffee Lab. "We strive to push the boundaries of coffee, producing the best of the best, and we see the same pursuit in what Alpha Motors is creating."
"We share Alpha Motor's excitement in the global introduction of the Wolf and Wolf+ electric trucks at the 2023 Seoul Mobility Show later this month," said James Wyner, CEO of Shawmut Corporation. "These are important introductions at a world class automotive venue."
Founded in 1916, Shawmut Corporation is the world's leading provider of innovative, high-performance soft-material solutions. Shawmut is a global leader in advanced materials, textile manufacturing, and lamination process innovation across the automotive, medical, filtration, military, protective, and technical lamination solutions markets, and is the largest producer of laminated warp knit automotive headliner fabrics in the world.
The company provides custom-engineered materials such as performance textiles and coated and laminated fabrics for demanding applications. Shawmut Corporation's world-class team of applications and materials engineers works with customers to define detailed performance requirements and leverages deep expertise and decades of application experience to design a value-driven material solution for the need.
Shawmut employs over 600 employees worldwide in nine global manufacturing plants and six commercial offices across the North America, Europe, and Asia.
"Spinneybeck introduced full grain, aniline dyed Italian leathers to North America in 1962. Over the decades, this company has evolved from solely a leather supplier for upholstery and aircraft interiors to a manufacturer of pioneering architectural products with a focus on natural materials. The extensive product line now includes sculptural wood and acoustic cork which prove that sustainability, beauty, and performance can go hand in hand," said Spinneybeck.
Spinneybeck knows natural materials. We offer the highest quality Italian upholstery leather and architectural products in a range of natural materials including leather, wood, and cork. Our designs are made with sustainability in mind and add natural texture, luxurious finishes, and handcraftsmanship to any space.
"CAMP by Alpha Motors is an innovative platform that represents the future of 'Move Humanity' culture. This digital creation goes beyond the EV industry and creates new possibilities through virtual travel. We are excited for this collaboration and look forward to people enjoying the CAMP experience," said Ray Yeom, Founder and CEO of e.L.e Media.
The Alpha Wolf Plus puts an additional emphasis on utility, while preserving the persona of Alpha's revolutionary Wolf Plus electric truck. The multipurpose Wolf Plus is built for utility and adventure. It has an extended cabin that accommodates four passengers, with access provided through two full-size doors for the driver and front passenger, and two three-quarter size doors that hinge backwards for open rear seat occupancy.
Wolf Plus vehicle dimensions measure approximately 5,287mm (208in) in length, 1900mm (75in) in width, and 1765mm (69in) in height. The truck bed measures approximately 1652mm (65in) in length, 1490mm (59in) in width, and 450mm (18in) in depth for a total of 40 cubic feet of truck bed storage.
Alpha Motor Corporation (Alpha) is an award-winning American automobile company focused on manufacturing mobility solutions that Move Humanity®. We innovate sustainable transportation for the wellness of people and our environment by implementing advanced automotive technologies and disruptive industrial practices. Based in Irvine, California, Alpha is committed to creating the kinds of electric vehicles we believe the world has always wanted to see but that have not existed – until now.
The Seoul Mobility Show is a biannual international event and is the only automobile exhibition in Korea accredited by the International Organization of Motor Vehicle Manufacturers. The first show was held in 1995.